Ahh, it's a beautiful thing to be done.
Now comes the road. It's strange to be going out on tour again, it's been 2 damn years!
Any of you coming to see us in Europe?
Europe: pockets bulging with coins, trying desperately to find somewhere to eat, blowing up all my American appliances, diabetes-inducing chocolate, great coffee, amazing shows.
And our first U.S. tour. We're starting with small cities (Scranton anyone? I better see Michael Scott in the crowd).
We're taking these guys:
Good thangs.
Our dear but not departed friend Dan Smith: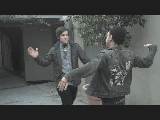 from the Dear and Departed, and many AFI and Blaqk Audio backing vocal sessions, is on that tv show L.A. Ink now. He's been working at the shop for a while but he's part of the show now, too. Watch and support, or better yet, go get a tattoo from him.
On a strangely recurring sad note, the legendary Les Paul passed away.
He made these things:
Without them I might have had a decidedly less interesting life.